Today we are introducing a new partnership with Groover 🔊🎶
Groover helps artists who want to promote their music connect with the best media outlets, radio stations and record labels looking for emerging talents.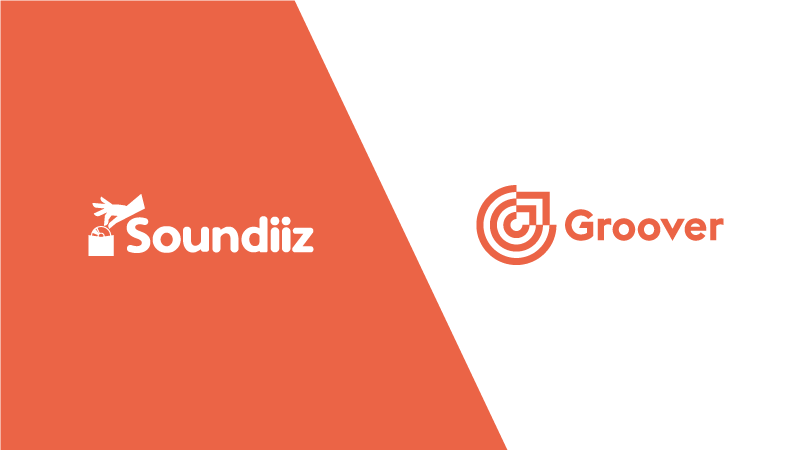 For some years now, playlists have been more and more popular on streaming music platforms. For an artist, it's the place to be to increase his fanbase and get more and more listeners.
That's why having a nice curated playlist with a significant number of followers is becoming very valuable !
How does it work ?
We recommend you to start by creating on Soundiiz a Smartlink for your public playlists. With this smart link you will be able to share your playlist with a simple URL on socials like Facebook, Twitter but also blogs / personal websites and even Instagram !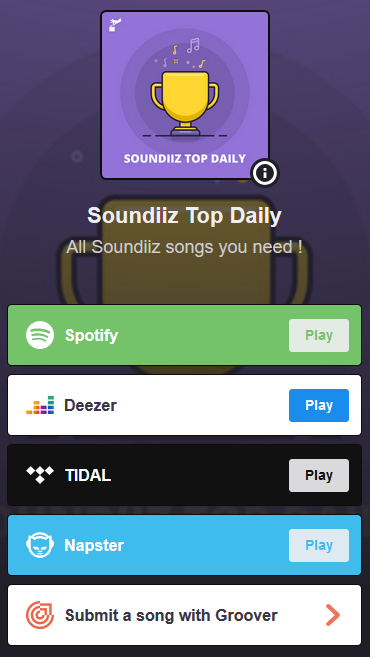 As you can see on the example above, you can easily add a Groover button to link your Groover profile.
With Soundiiz, you can automatically synchronize your playlist on every music services ! All popular music platforms are supported by Soundiiz, so you can redirect your listeners to the right place without having to recreate your playlists everywhere 😉 It's a good addition for an artist to know that as influencer you are active on multiple music services ! 💪
I got my smartlink and my syncs up on Soundiiz, what should I do then ?
It's time to become a music influencer on Groover ! Create an account on Groover to join the selection of music influencers (more information about Groover Influencers).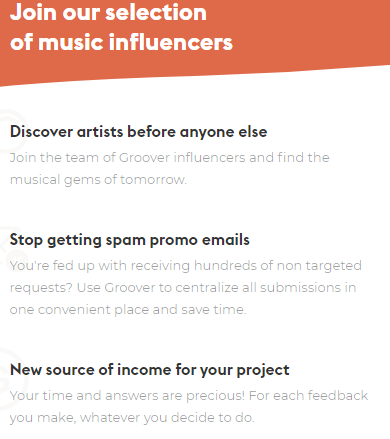 Once you've got your profile accepted and up on Groover, copy the link (should be like https://groover.co/en/influencer/profile/aficia/preview/) and add a "Groover" link to your Smartlink on Soundiiz by pasting this URL.
Now, when a visitor comes to your Smartlink, he will be able to listen to your playlists and then quickly and easily submit a song through Groover !
Now, how can I be paid to promote new artists and songs to my playlists ?
An artist must pay with "Grooviz" (1 Grooviz = 1€ all taxes included) and it costs 2 Grooviz to send you a song. Every time an artist is sending you a song for a feedback you have up to 7 days to respond and being paid for that.
When you are listening to his track and giving a feedback you are paid 1 Grooviz whatever your decision it, to share the track or not !
Soundiiz x Groover partnership
Using the power of Soundiiz to create smartlinks and synchronizations is a good addition to Groover platform, which will help you to monetize your playlists.
We are proud to support artist promotion and curators on Soundiiz with Groover ! Check this Groover Blog article about How to Easily Manage your playlists with Soundiiz to know more about relations between our services.
You are an artist ? 🎵💿 Use SOUNDIIZGROOVERVIP to get 10% on your first Groover campaign !