Today is a big day: Soundiiz is launching a series of articles revealing our service's unique features! We focus on how to transfer your music data from one streaming service to another.
We know it can be challenging to understand how to get the most out of each option Soundiiz offers. Not that our service is unreadable, far from it – we've put a lot of time and effort into our customer experience – but there are so many things that it's easy to leave one out when it could be helpful to you.

Our goal: to show you, once again, that well used, Soundiiz is a companion to your daily use of your streaming platforms! Our services are designed and optimized to save you time and enhance agility.
First step: how to use the transfer function from one platform to another?
We will explain it all to you.
Transfer your music data: albums, songs, artists, and playlists
Music follows us everywhere we go. In the morning, when you need soft and relaxing music. During our running sessions or parties, when our friends ask us to provide the musical atmosphere.
We spend many hours making playlists for every moment of our day, like hundreds of artists' profiles, and we listen to countless songs and albums. And almost everything is linked to our streaming account. But what happens if you want to switch services? Will you lose everything and have to rebuild from the ground up? Your streaming service might become less appealing than others or become too expansive; you might not like its interface because it evolved,…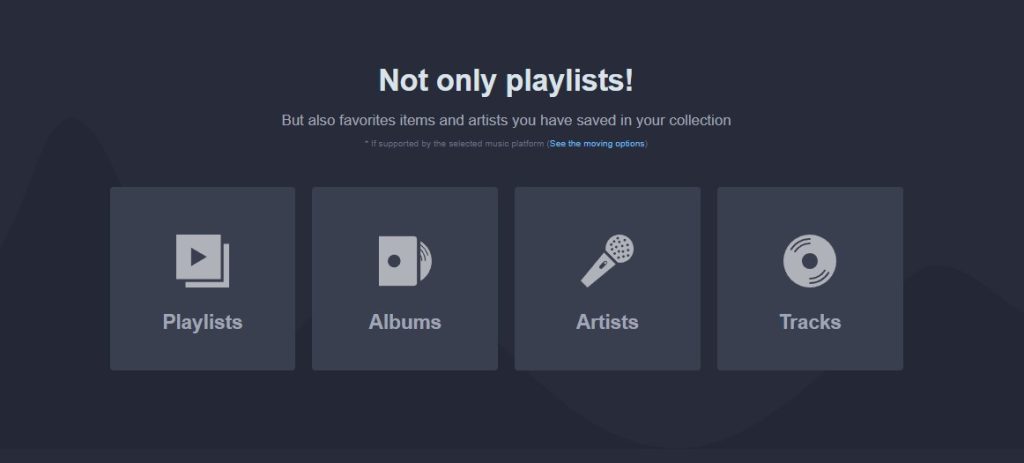 There are a lot of situations when you might need to transfer your data. By data, we mean your liked songs, artists, albums, and playlists.
You would hate losing your data. That's why some people hesitate to transition from, let's say, Spotify to Deezer.

What to do with all your playlists, liked songs, albums, and artists? Will you lose them all? And if not, how to transfer them from one service to the other?
With Soundiiz, you should have no worries. We allow you to transfer your music data from one streaming service to another in just a couple of steps.
Here's how to it.
Transfer your music data, step by step
As you can imagine, the first thing to do is create an account with Soundiiz. Nothing could be easier: you can do it via your Google account in a few clicks or directly sign with your favorite music service.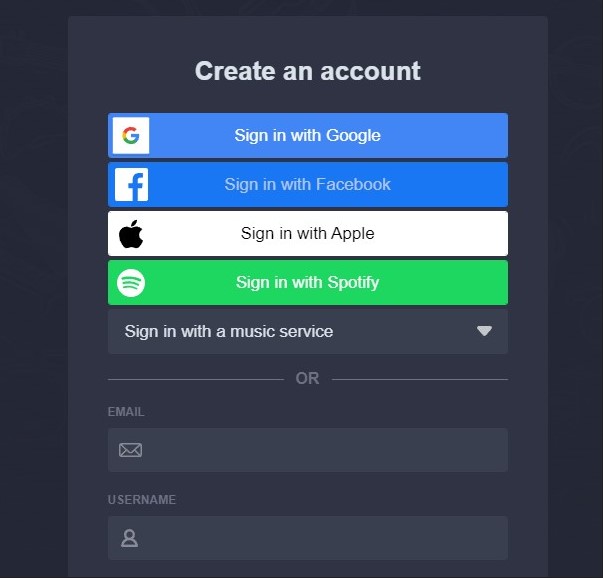 Done? Go back to your home page, then in the "Tools" section, click on "Transfer".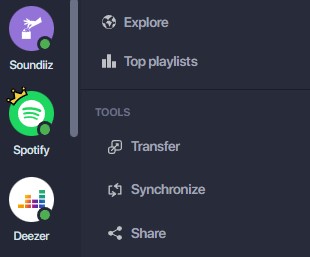 This page will appear as follows: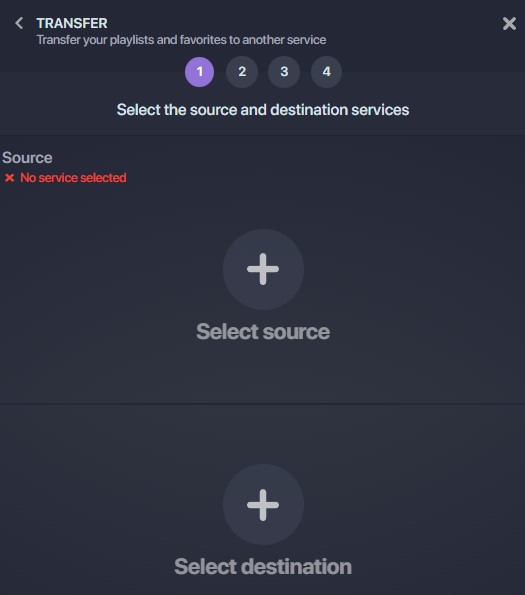 In the "Select Source" section, select the platform from which you want to transfer your data—for example, Spotify.
In the "Select Destination" section, choose the platform you want to start using—for example, Deezer.
Note: you must, of course, have created an account on these platforms beforehand. You will be asked to enter your login info to connect these services to your Soundiiz account.
Then click on the "Start" button.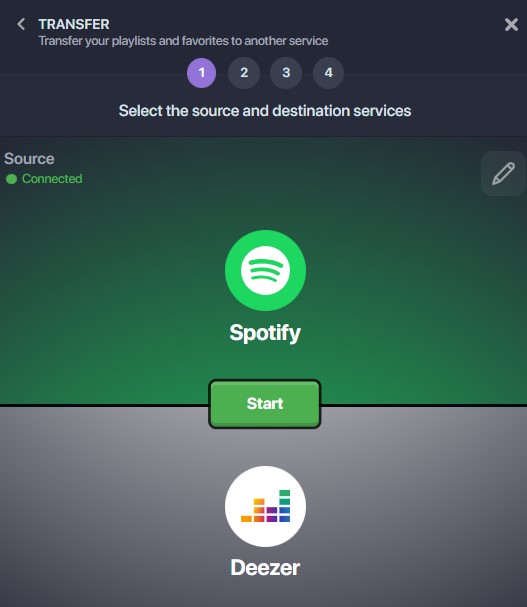 Soundiiz will search for available transferable data on your Spotify. Select one, two, three, or four items – playlists, albums, artists, or songs – to transfer, then click "Confirm my selection".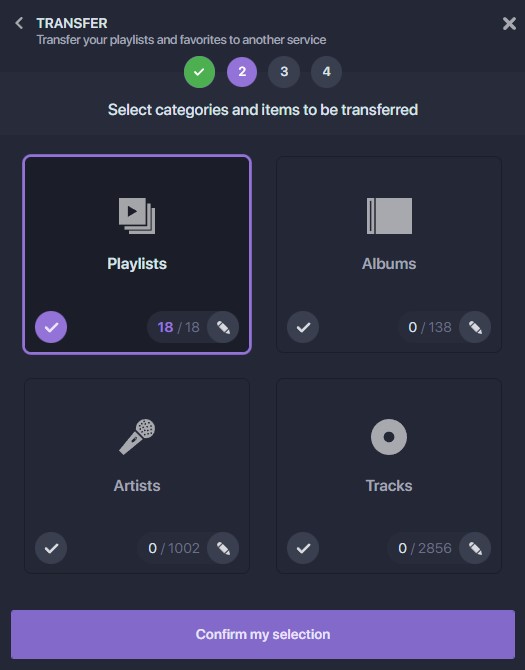 Note: if you use Soundiiz's free version, you can only transfer up to 200 songs per playlist and one playlist at a time.
Once it's done, click on the purple "Begin the transfer!" button in the window that just appeared.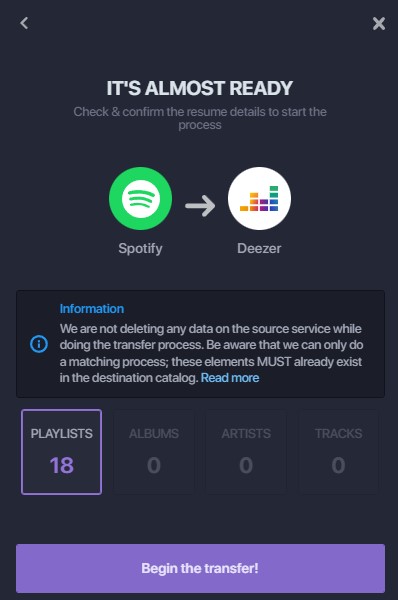 The transfer has just started!
Once the transfer is finished, you don't have to do anything else! If you check your mailbox, you should find a mail indicating that your transfer is complete!
Now you have to go to the account of your new streaming platform and see that everything you wanted to transfer has been transferred!
Magic and easy.
Which platforms does this work with?
Almost all of them. You can find the list of all the platforms available on Soundiiz here.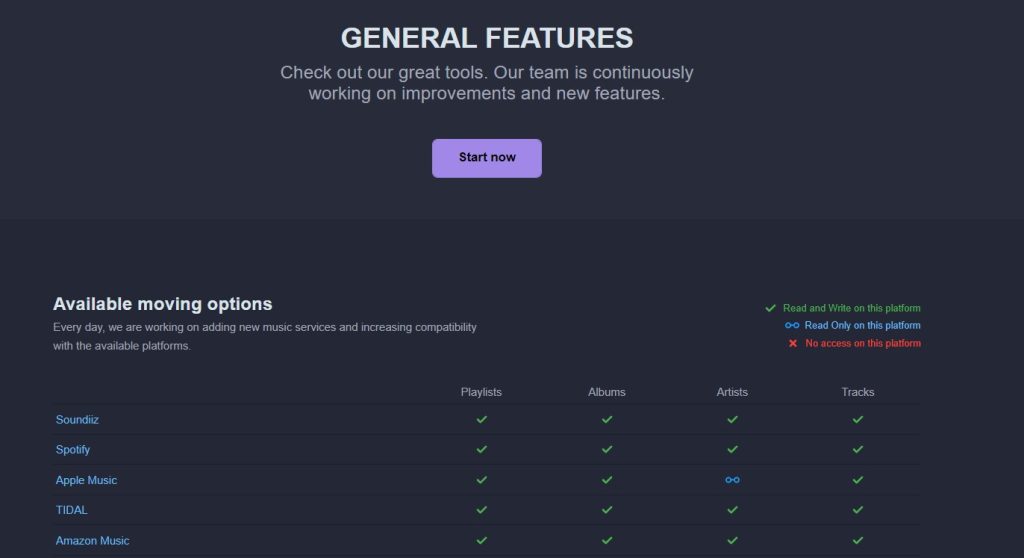 Note: you cannot do everything with all platforms. It's impossible, as of now, for example, to transfer your albums to YouTube Music.
How does it work?
We don't want to go into technical details, but Soundiiz works with many music metadata, including ISRC, UPC, featured artists, mixes, and duration… This metadata profile allows us to be accurate in the treatment of the matching process as much as possible.
When transferring a song from one platform to another, Soundiiz makes a matching process between the two platforms. This magic mixture allows us not to lose any information during the transfer and recreate your music collection on the destination service.
But it's not the only thing we take into account. We pride ourselves on having one of the best, if not THE best, algorithms on the market, improved daily since our launch in 2013. Using this, we do a precise matching process between streaming platforms.
We can handle complex data, such as remixes, karaoke versions of songs, acoustic covers, sped up etc.
To sum up, if you "like" a song on Spotify, Soundiiz will "like" the same song, if it exists, on Deezer. Sometimes, as metadata and catalog can differ from service to service, matching is impossible or will not be exact (not the same album, for example). It's a complex mixture, and even if Soundiiz does everything to make it perfect, in rare cases, we can't find the corresponding song, album, or artist. But to be honest, it almost never happens!
And you know what? We can do this in a few minutes, saving you hours of manual search and additions!
Is it legal?
Of course! Soundiiz does not download or recover audio files: we do not own them. We are only doing a matching process between the source platform and the destination catalog.
Soundiiz works hand in hand with most streaming platforms. They are interested in our ability to allow users to migrate easily from one platform to another in a few seconds.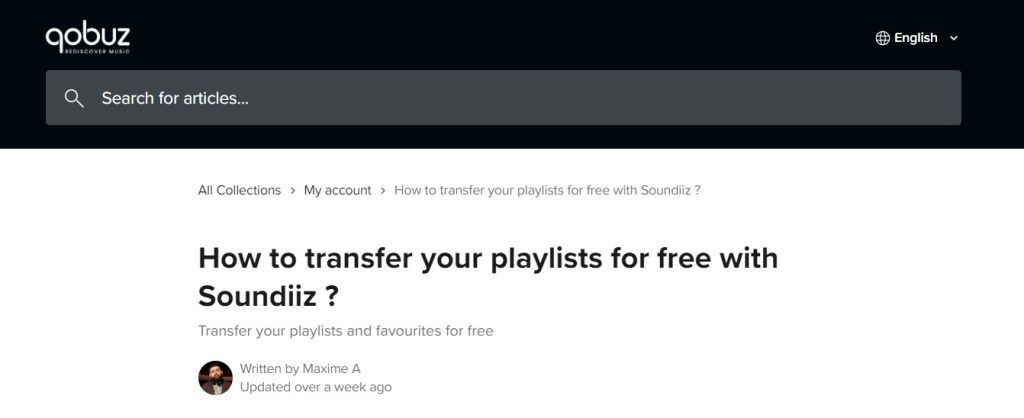 Soundiiz is, for the platforms, a facilitator. We allow everyone who wants to change streaming service to do so without losing data. Thus, we remove some barriers and make subscribing to a new platform easier and almost invisible regarding data.
Soundiiz is not working for any of them, but many have already called on us, and most feature us on their site. Proof of trust!
Some details
Soundiiz is a free tool, but you can only do some things in its free version. For example, you can transfer up to 200 songs from one playlist and transfer one playlist at a time. It shouldn't block you from moving your data, but if you want to do it in just one batch, you might want to consider subscribing to one of our Premium versions.
You will find everything you need about our free and premium versions here.
Please note that all our offers can be canceled at any time! So if you only need to do a one-time transfer, subscribe to our monthly plan and cancel it once you are.
And now that the transfer function has no more secrets for you, you can try using it right now! Transferring your music data from one streaming service to another has never been easier.