It's happening, and it's almost inevitable. YouTube and Amazon have entered the streaming market and are starting to dominate. But what's best between Amazon Music and YouTube Music?
Their strike force is considerable: with substantial financial means, they can invest large sums of money and quickly evolve, conquer new grounds, and attract more consumers. The whole streaming marketing is watching their steps and is trying to catch up.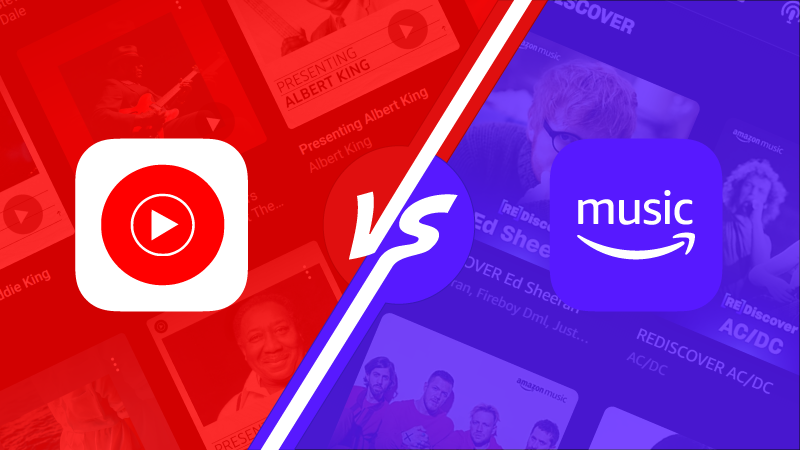 Since these players are increasingly important, it was logical for us to understand their differences, with only one objective: to allow you to make your choice with full knowledge if you decide to try Amazon Music Unlimited or YouTube Music Premium.
Soundiiz is here to give you all the necessary keys and allow you to get the most out of these two streaming services.
As always, we start with a brief history and then go into details. Let's dig in!
What's the difference?
The difference? The age, first. Amazon entered the music business in 2007 with Amazon MP3. It is not yet a streaming service, but Amazon is already gaining experience and preparing the ground for its entry into the sector, in 2014, with Prime Music, then Amazon Music Unlimited. It is now present in about 50 countries and has nearly 85 million users worldwide. Massive!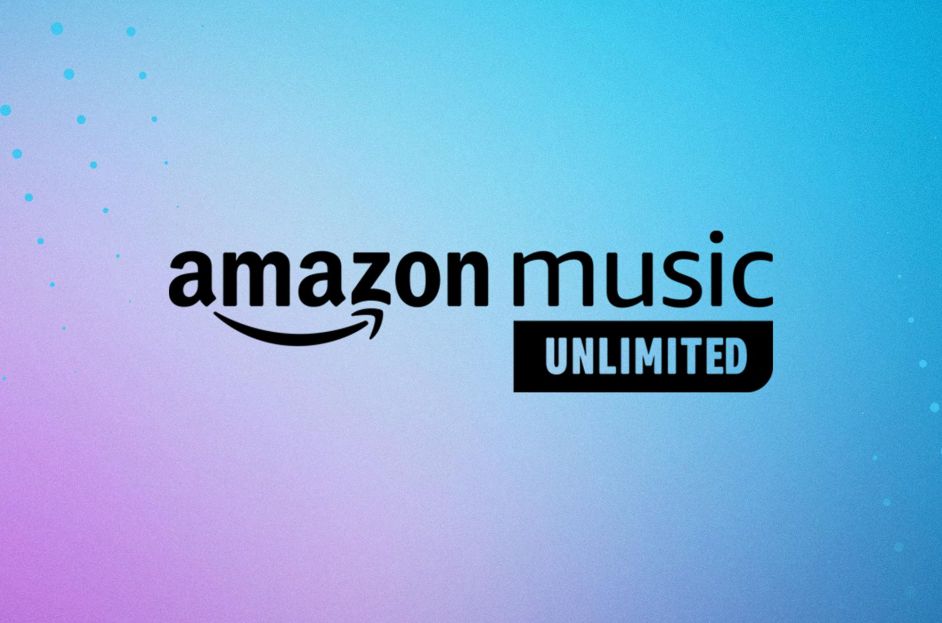 On the other hand, YouTube made waves in 2014 with Music Key. YouTube then evolved from Music Key to Google Play (2020) and finally renamed itself YouTube Music. These name and identity changes have not prevented YouTube Music from expanding into nearly one hundred countries and having over 80 million users.
YouTube is present in almost twice as many countries as Amazon Music, even if it is behind in the number of users. A situation that could change if Amazon does not expand further. What if this was the key to YouTube's development? YouTube Music can reach the four corners of the world thanks to its links with Google and the fact that almost everyone uses YouTube regularly.

Google is a business monster, YouTube as well, and there is no doubt that YouTube Music is about to become a streaming monster.
Another critical point for Soundiiz is the remuneration of artists. On this point, Amazon Music is among the worst in the industry.
With $0.004 per stream, it is at the same level as Spotify, far behind Napster ($0.019) or TIDAL ($0.0128), in the first two places, and behind YouTube Music, Apple Music, or Deezer.
Now, let's go into details!
YouTube Music VS Amazon Music: Audio Quality
Amazon not only offers music in HD but also in Ultra HD. This translates into a rich sound with more nuances. There is also the Dolby Atmos option and 360 Reality Audio, a technology developed by Sony.
Amazon is no doubt one of the best-endowed players in the market.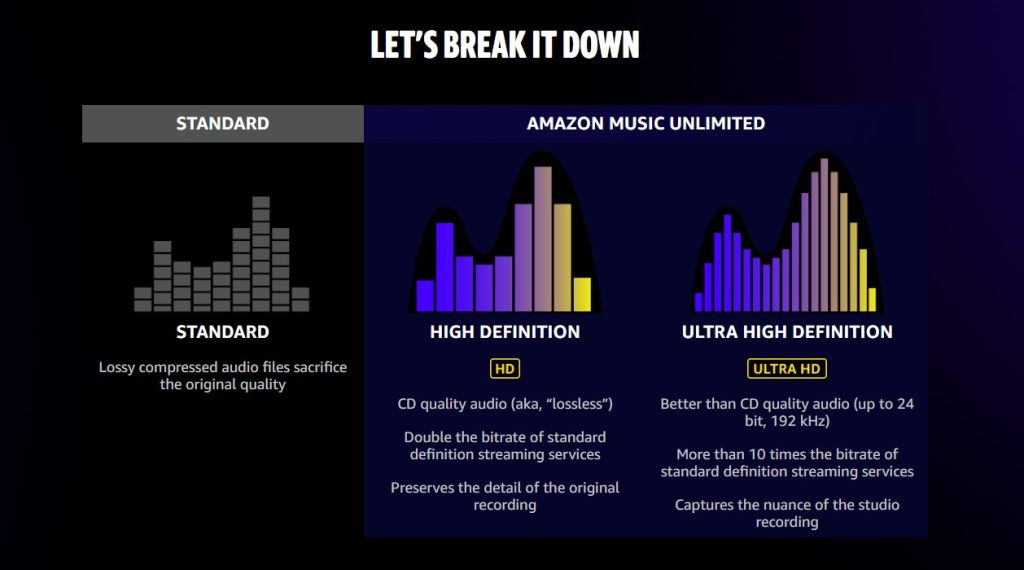 YouTube also offers HD music, but its audio quality peak is lower than Amazon's. YouTube will be more than enough for "lambdas" streaming service users, but Amazon should be preferred if you're an audiophile. It competes directly with TIDAL and Qobuz in this segment.
Amazon Music Unlimited is on top in this comparison since it offers more HD music listening options.
Winner: Amazon Music ✅
YouTube Music VS Amazon Music: User Experience & Algorithms
YouTube Music is different from Amazon for the simple reason that it is connected to Google. This allows the service to detect at what time of day you use YouTube Music and to showcase playlists in line with your mood.
Open YouTube in the morning? YouTube Music can suggest relaxing albums or playlists to start your day.
Are you in the gym or running? YouTube Music has put together an energetic playlist for you. We know what you're thinking: it's overwhelming and almost terrifying. But you are free not to use this feature.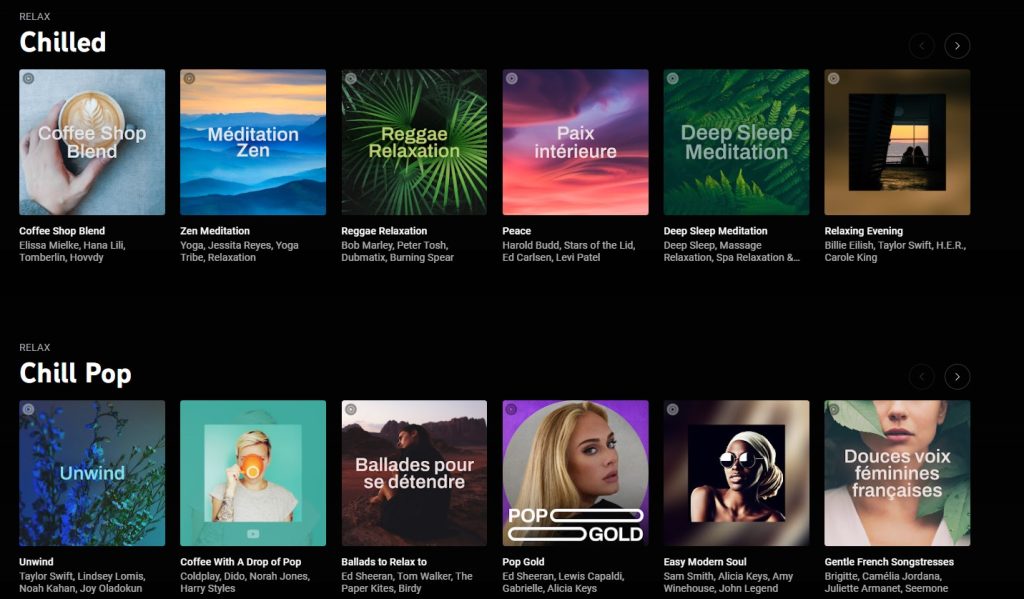 From the user experience point of view, Amazon Music is in line with what you'd expect. It doesn't do too much or too little, and that's a good thing, considering how controversial Spotify's new interface has been.
Amazon lags behind the competition in the discovery of new music. Even if its "My Discovery Mix" feature allows you to start the week with a list of songs based on your previous listening, the suggestions are not always relevant and somewhat generic. Amazon Music Unlimited is far from the level of YouTube Music or other streaming services.
Winner: YouTube Music Unlimited ✅
Catalogs
– (as of June 2023) –

It may seem surprising, considering that one might think that YouTube gathers ALL the music available in the world. Still, according to recent statistics, YouTube Music offers fewer songs than Amazon Music Unlimited. Amazon Music is among the best players, with millions of references, including many podcasts and audiobooks. YouTube Music can't compete for the moment, but that doesn't mean the service isn't attractive; quite the contrary!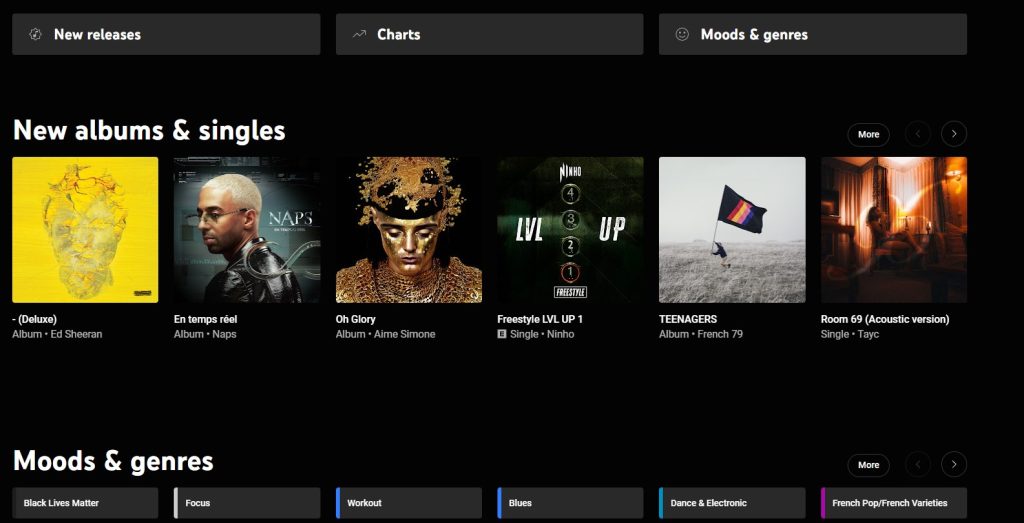 Rest assured: the difference represents a few million songs. While it may seem a lot, it shouldn't stop you from finding all the artists you want.
Winner: Amazon Music ✅
Price & Subscription
– (as of June 2023) –
The two offers are challenging to understand. The reason? Amazon and YouTube have considered their offerings as "global" offerings, encompassing more than just music streaming. It allows them to keep their users in the same environment. This way of doing business is one of the reasons why Amazon and YouTube have an increasingly important position in the market.
We explain it all.
Amazon Music
First, there's Amazon Music Prime, a service available to people who already pay for an Amazon Prime subscription. It costs $12.99 per month (the price drops to $6.49 per month if you're a student). Amazon Music Prime is an efficient service that provides access to a massive catalog of more than 100 million songs… but only in Shuffle mode.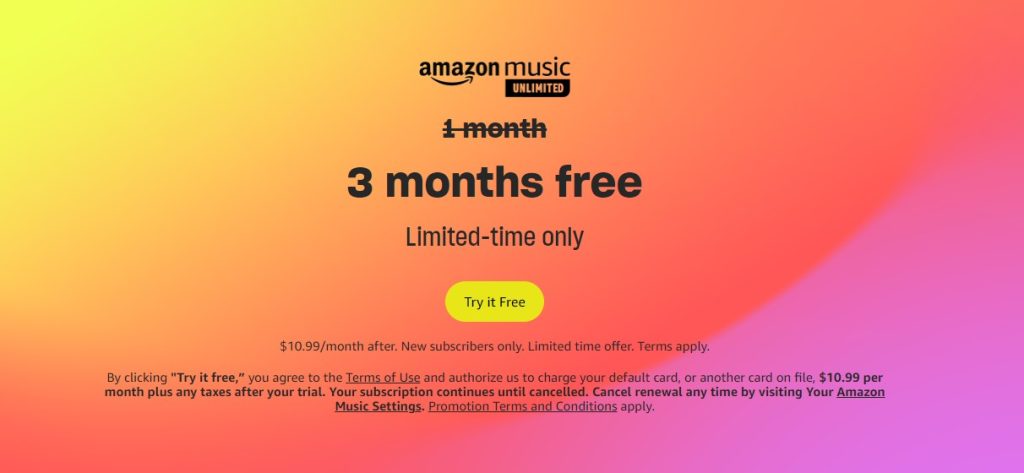 Then there's Amazon Music Unlimited, Amazon's "real" music streaming service. Unfortunately, it's not included in Prime subscriptions and is priced at $10.99 per month for non-Prime subscribers ($5.99 per month for students) and $8.99 per month (or $89 over a year) for Prime subscribers.
Like Spotify, Deezer, or Apple Music, Amazon also offers a "family plan" that allows six people to use the same account for $15.99 monthly ($159 per year).
In addition, Amazon offers a 90-day trial period to test its services. That's more than its competitors, and it will give you plenty of time to decide whether or not the service meets your needs.
YouTube Music Premium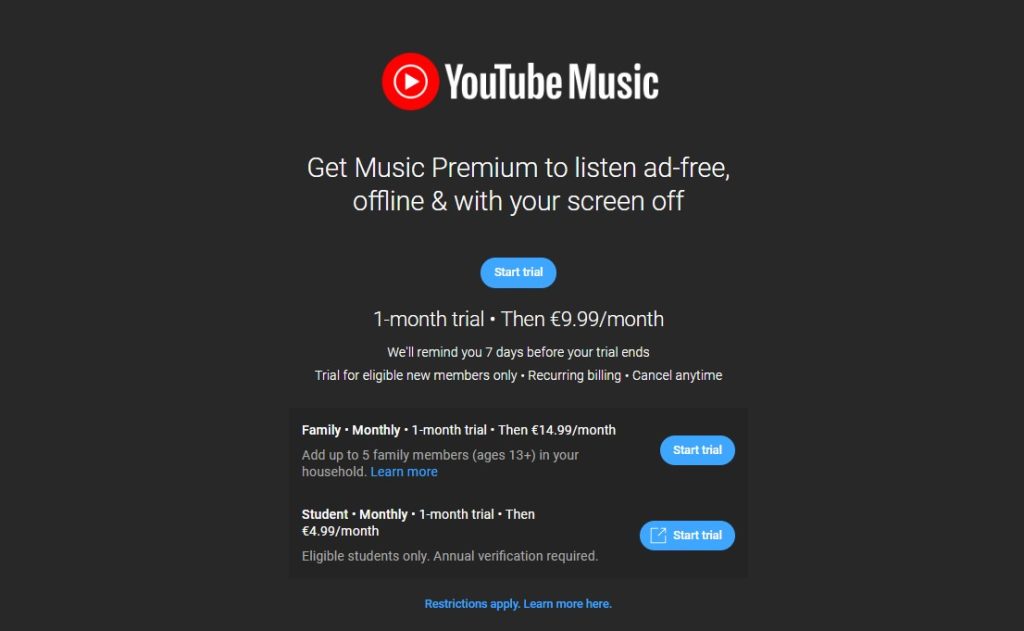 YouTube Music Premium offers a consistent and balanced package at $9.99 per month for an individual subscription. It costs $14.99 monthly for a subscription that allows six different people to use the same subscription.
Another benefit is that you'll have access to YouTube Premium if you purchase a YouTube Music Premium subscription and pay an additional $2 (or $11.99 per month). You won't have to deal with ads at the beginning of some YouTube videos. You'll save time and be less irritated by those multiple ads.
If you don't want to pay for a subscription, you should know that YouTube Music can be used without spending a dollar, but with ads.
Although its offer may seem complicated to apprehend, Amazon Music Unlimited is a pretty good deal when coupled with Amazon Prime.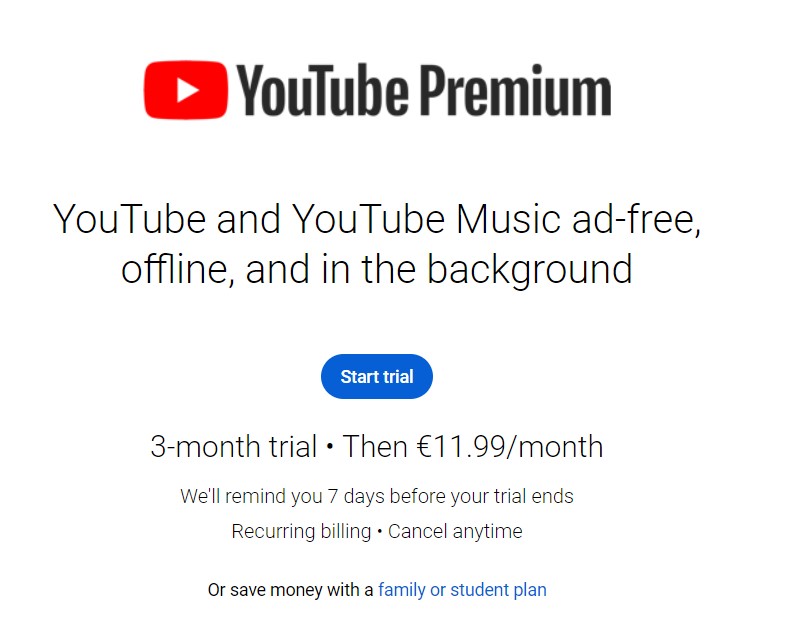 On the other hand, if you are not a user of Amazon's services, YouTube remains an efficient and cheaper option. It's up to you to see where you fit in and whether you want to combine your streaming services under the same subscription.
Winner: It's a tie!
YouTube Music VS Amazon Music: Let's wrap it up
Amazon Music is an exciting service with a catalog and audio quality that are among the best on the market, but also a competitive price offer coupled with Amazon Prime. The only visible obstacle to Amazon Music is its deployment. The service is currently available in "only" about 50 countries.
For now, Amazon is a good compromise between all the components a streaming platform offers.
On the other hand, if you are primarily interested in discovering new music, YouTube is your best solution. Its algorithm is better and offers more flexibility!
Soundiiz: Transfer your playlists from one music service to another
One of the main things that could prevent you from changing your music streaming platform is losing all your music collection, including your playlists, favorites albums or tracks, and followed artists. And having to rebuild this library with a new service could be time-consuming and even impossible, depending on the size of your collection.
Soundiiz solves this by doing an advanced matching process, allowing you to move quickly and with no effort from Spotify to YouTube or from Spotify to Amazon, for example! And then keep your playlists updated by using the playlist Synchronisation feature.

When you unsubscribe from a streaming service, your data and playlists can be deleted. Using Soundiiz, you create backups of your YouTube Music playlists as CSV or backups of your Amazon Music playlists as CSV. Convenient!

To sum everything up, Soundiiz allows you to subscribe to YouTube Music Premium and Amazon Music Unlimited without losing your data. Interesting, isn't it?
So go ahead, sign up for a thirty-day trial, once with Youtube Music, once with Amazon Music, and make your choice!