It's the same old story: every year, Spotify stands out from the competition and releases its "Spotify Wrapped", a retrospective of your year spent listening to dozens of artists, podcasts, and playlists. Except that no one knows when it is coming. Usually unveiled around the beginning of December, it allows you to take a step back and look over your shoulder with a tiny bit of nostalgia. Spotify Wrapped is fun, the design is different every year, and Spotify always finds ways to add fun details.
UPDATE 2022/11/30: Spotify Wrapped 2022 is now available on the Android and Apple mobile applications. Check this link.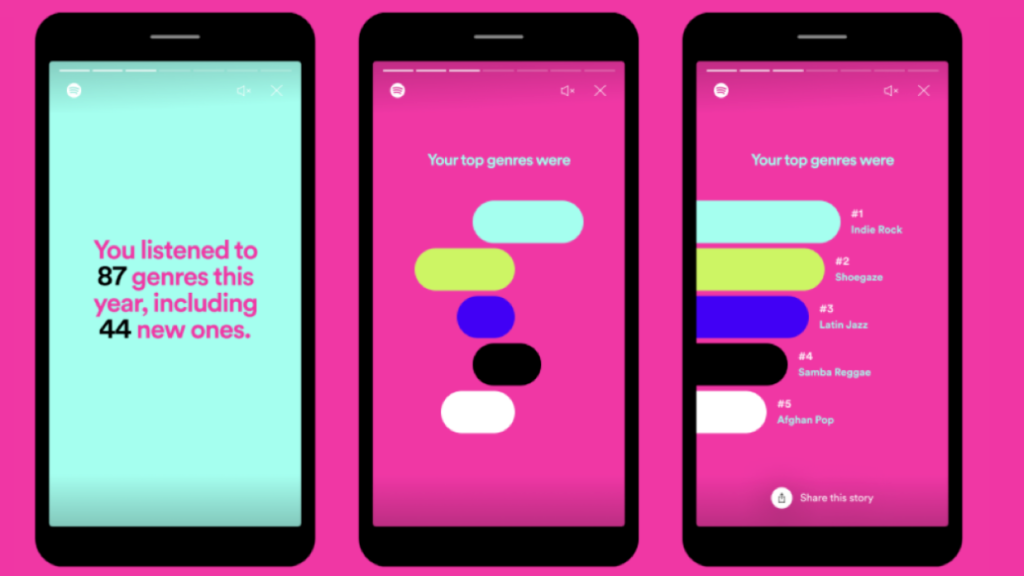 Number of minutes spent listening to music, most popular artists, favorite genre… Spotify creates "cards" that are visually appealing and can be easily shared on your social media networks. The event looks like a huge marketing campaign for Spotify and has proven, since its launch in December 2016, to be a pretty big thing. For a few days, it seems that almost everyone has been promoting Spotify.
We're not going to lie: it can get tiring seeing dozens of Instagram stories sum up your friends' musical year, but it just shows how much hype the tool has created. It's undeniable: we almost all got caught up in the game and discovered, with a mix of fun and fear, our favorite songs of the year. And that artist or song you've been hiding from listening to will probably end up at the top of your year-end list! It's the tool's appeal and probably why we all love it.
The good news is you still have a few hours – days? – to listen to an obscure fifties jazz album repeatedly, so that it will be high on your Spotify Wrapped list and make you look like a connoisseur to your friends!
Another cool feature, perhaps the most important, is the ability to generate a Playlist directly associated with your Spotify Wrapped with your hundred favorite songs of the year. We can think of it as sort of a best-of of a best-of.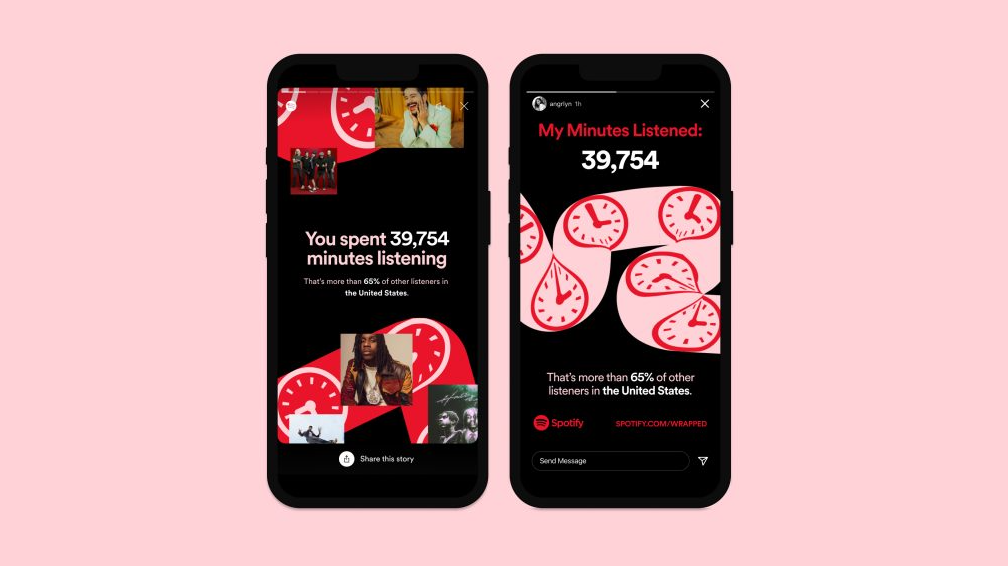 Wrapped is not about discovering new artists; it's about listening again and again to what made your year special. Coupled with the "Sync" Soundiiz feature, this playlist could become one of your favorites. As fun as it is, Spotify Wrapped can unveil many other secrets. Soundiiz allows you to optimize its use and push its features to the top.
We'll tell you how right here.
What time period does Spotify Wrapped cover?
Spotify Wrapped is presented as a tool for reviewing your year, but it's not 100% accurate. Spotify considers your listening habits from January 1 to October 31 each year. Since Spotify Wrapped usually arrives at the very beginning of December, your charts won't include the last two months of the year.
Good to know, so there are no surprises!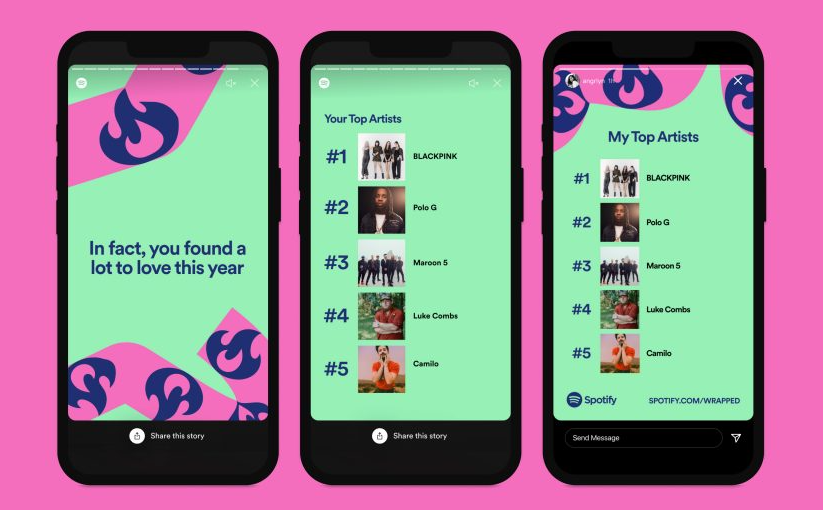 When will Spotify Wrapped 2022 be available?
You know us: at Soundiiz, we like to have fun and make bets. No one ever knows when Spotify Wrapped will be released. The Swedish firm has even created a landing page simply announcing that "Wrapped is coming". The streaming service knows that the event is expected. Last year, Spotify Wrapped was unveiled on December 1, and the two years before, on December 2 and 5. That's two Wednesdays and a Thursday.
At Soundiiz, we're betting that the feature will be released this Thursday, December 1st. Our calculations are clever, our best experts have been working on it, and thanks to our statistical forecasts, we are pretty sure of our move – it is of course, totally wrong, and the only calculation done has been to move our agenda back three years, but hey, it's the idea that counts, right?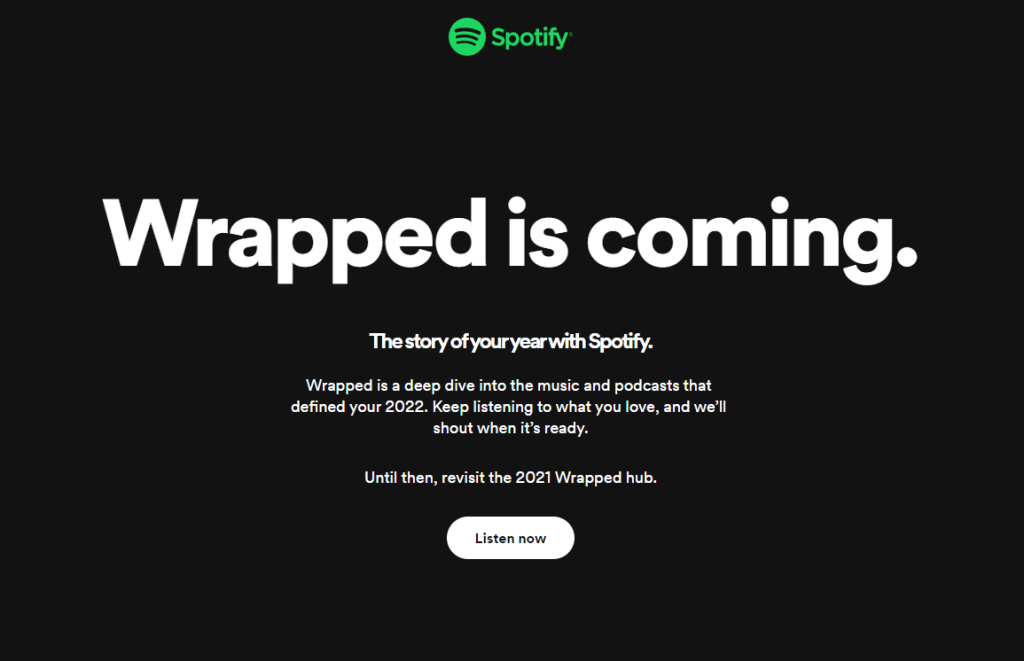 How do you check your listening habits all year round, outside of Spotify Wrapped?
The feature isn't nearly as extensive as Spotify Wrapped, but the streaming service allows you to view your most-listened-to artists and songs for the current year.
To do this, open Spotify on your computer, click on your profile picture in the top right corner, then click on "Profile" and you'll see this info.
How do I know when my Spotify Wrapped will be available?
It's very simple: just open your application and click on the notification bell on the top right-hand corner, or navigate to your home page, where a banner should appear.
There's no risk of missing your Spotify Wrapped.
How do I find my Spotify Wrapped tracks from previous years?
Spotify does not allow you to access your Wrapped from previous years from the app directly. But, as always, there's a trick.
Log in on a computer – not your smartphone – to your Spotify account by following this link.
Once you're logged in, you'll be able to access your Spotify Wrapped from previous years by clicking on the links below. All you have to do is save these playlists to your library and listen to them throughout the year!
Once you have saved all these Playlists, you can transfer them to your Soundiiz account.
And since Soundiiz can also be used as a playlist bank, you can find all your Spotify Wrapped files, year by year, without having to use the feature described above.
How do I listen to my Spotify Wrapped tracks on other platforms?
That's where Soundiiz comes in! Wrapped is associated with Spotify, and one may think, at first glance, that they are condemned to stay on Spotify. That's where you're wrong!
Thanks to Soundiiz, you can easily transfer your data from Spotify to any other music service. We explain it all with this step-by-step guide to export Spotify Wrapped playlist to Apple Music.
Once your Spotify account is connected to Soundiiz, our "Sync" feature allows you to migrate your Spotify Wrapped data to Apple Music, Deezer, TIDAL, or any other streaming platform you choose.
A tool generated by Spotify becomes, via Soundiiz, a tool that can be accessed…elsewhere than on Spotify!
Pretty cool, isn't it?
Is there an equivalent on Apple Music to Spotify Wrapped?
There isn't a Spotify Wrapped equivalent for Apple Music. But it doesn't mean Apple does nothing but watch the time fly.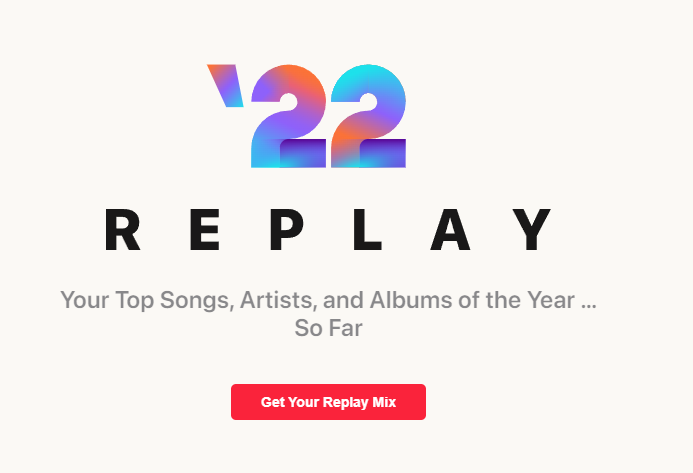 As of this year, Apple has launched Apple Music Replay, a tool that gives access to some of the information given by Spotify Wrapped: most listened songs, number of artists you listened to, hours spent on Apple Music… The information is less complete and showcased in slightly less entertaining ways – for now – but it should allow Apple users not to feel left out.
How to access Apple Replay on my smartphone?
On your phone, click "Listen Now" and scroll to the bottom of the range, until you see the word "Replay".
You can then open the playlist of your year but also go over the playlists of your past years and then if you wish, add them to your library.
A little special feature of Apple Music: unlike Spotify, Apple Music allows you to access this replay every week and at any time of the year. If, for example, you're curious to know which artists you've listened to the most in February 2023 and want to generate a playlist for that month, you can do so with Apple Replay. It is a serious threat to Spotify, which only offers this service once a year.
Then you can go to Soundiiz to transfer these playlists to all the streaming services of your choice!

Our "Synchronize" function could be particularly useful for you. You can automatically back up this weekly generated playlist on all other streaming services.
How to access Apple Replay on my computer?
If you use Apple Music from your computer, go to the following page, log in with your Apple Music account and then click on the red "Get Your Replay Mix" button.
And on other platforms?
In 2019, Deezer launched #MyDeezeryear. It is pretty much the same thing as Spotify, by creating easily shareable cards on social media. Deezer is always a few days ahead of Spotify, as #MyDeezerYear is usually unveiled by the end of November. Is Deezer trying to gain momentum? Everybody is catching up!
Tidal has yet to launch it's own "Wrapped", but no doubt it will arrive soon.
Bonus: Spotify Instafest.
How do you create your Spotify Instafest, and how does it work?
Before Spotify Wrapped was unveiled, Spotify launched a fun new tool this year: Instafest. It generates a three-day festival lineup based on the artists you've listened to the most in the current year. The main artists are the headliners in big white capital letters, and the less listened artists are mentioned in a smaller font.
Instafest is a third-party application that connects to your Spotify data: you can download it here and let it guide you.