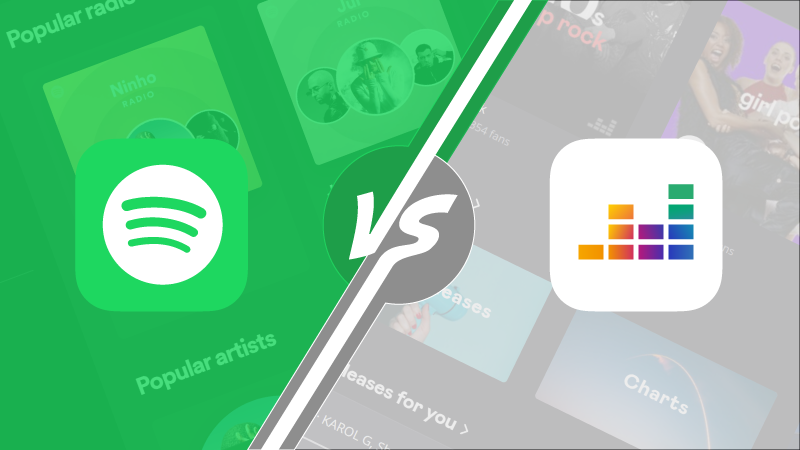 The day has finally arrived! After discussing the differences between Spotify and Apple Music, and then between two audio quality giants, TIDAL and Qobuz, today we're wondering which is better Spotify and Deezer.
Both services offer a complete, accessible, easy-to-use tool for the general public. It's simple: Spotify and Deezer do everything well. Even if they don't specialize in anything, they cover most of what an average music and podcast listener wants in a streaming service.
Between them, they account for 32% of the total volume of streaming users worldwide. But Spotify is way ahead of Deezer (31.5% VS 1.5%). How are they different? Which one is more suitable for your use? And how to migrate from one to the other in a few clicks without losing all your data?
All the answers are here; follow us!
Spotify or Deezer: What's the difference?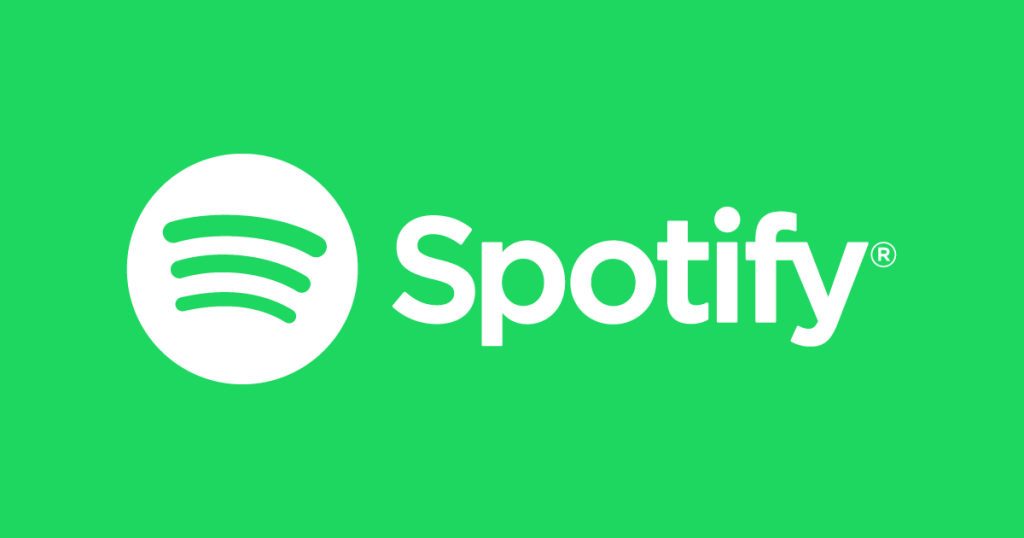 Spotify is now the leading streaming service in the world. Available in 185 countries, it was initially launched only in Europe in 2008, and its primary goal was to fight piracy.
The massive diffusion of music piracy plagued the beginning of the 2000s, and the record industry suffered. Artists had their contracts returned, money was no longer flowing, and alternative solutions had to be found. Over the years, Spotify, a company founded by Daniel Ek and Martin Lorentzon, specialized in streaming until reaching its first million users in 2011. By the end of 2022, 433 million people were using Spotify.
On the other hand, Deezer is a French company that started a year earlier than Spotify in 2007. Its growth was slower, but after partnering with telecom giant Orange, the company gained market share and is now available in 188 countries. It has nearly 10 million users, around 40 times less than Spotify.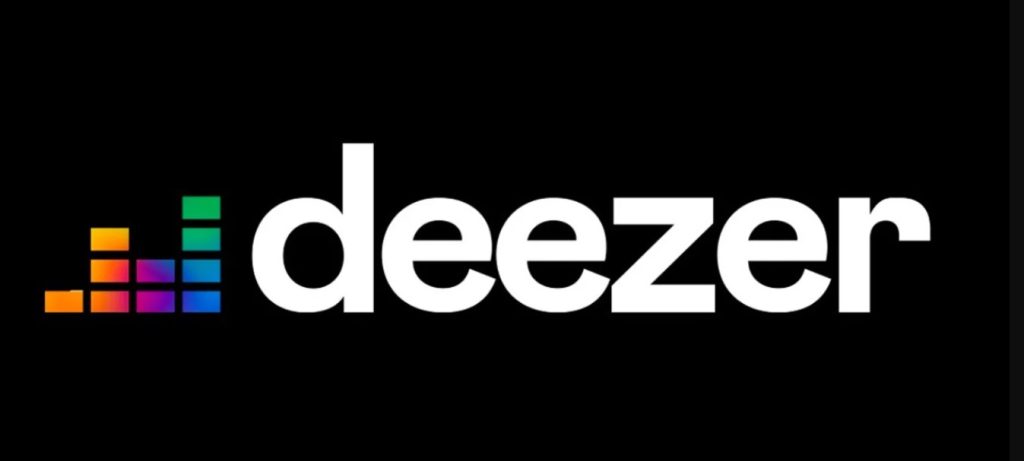 Both services offer equivalent features regarding "social" dimensions, i.e., sharing what you listen to on your social networks. Cross-posting will be easy! In summary, Deezer and Spotify are two tools offering everything a music lover can expect.
They differ in subtle ways, which we'll detail below!
Which one pays artists better?
According to a study published by MusicianWave.com in August 2022, Deezer pays $0.0067 per stream against $0.0043 for Spotify. A significant difference, and even more telling, if we compare the number of streams needed for an artist to earn a dollar. It is 148 for Deezer, against 229 for Spotify.
Spotify is known to be one of the lowest-paying services for artists. Still, the platform makes up for it by offering artists the opportunity to distribute their music to their large user base of more than 400 million users. A small consolation?
During the COVID-19 pandemic, Spotify launched the Fundraising Pick initiative, encouraging donations for artists, bands, or associations to various destinations. More details here.
Deezer offers several training and mentoring programs for artists to assist them with issues related to promotion, marketing, and whatever else it takes to make it big. The Deezer Next initiative, on the other hand, is geared towards emerging artists and tries to bring them to the forefront so they can reach a wider audience.
Both platforms are, therefore, aware that they must not only be a source of income and distribution for artists but also an effective tool for promotion and mentoring.
Who's the winner?
Winner: Deezer✅
Spotify or Deezer: Audio Quality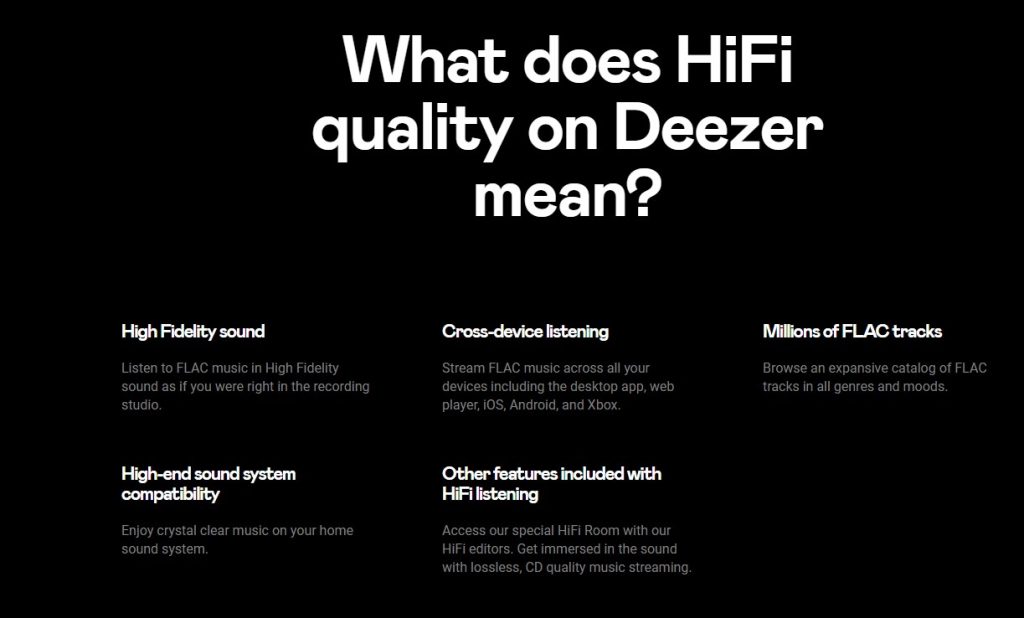 This is perhaps THE big difference between Spotify and Deezer. Spotify is a service with a decent, but not stunning, listening quality. Spotify's Hi-Fi feature has been announced for months and has not become available. Rather than developing it, Spotify focused on an updated design and user interface version. That being said, the 320 kbps audio quality format should be enough to satisfy most Spotify users.
For audiophiles or people wanting to hear music exactly as it was meant to be heard, Spotify may not be the optimal solution. Qobuz or TIDAL are best suited for this purpose.
But that doesn't mean that Deezer is out of the picture. On the contrary, Deezer, if it does not offer the same audio quality as TIDAL or Qobuz, provides a service in "Hifi" quality for most audiophiles among you. And it is enough to make it more interesting than Spotify on this matter.
Who's the winner?
Winner: Deezer✅
Price & subscription
– As of may 2023 –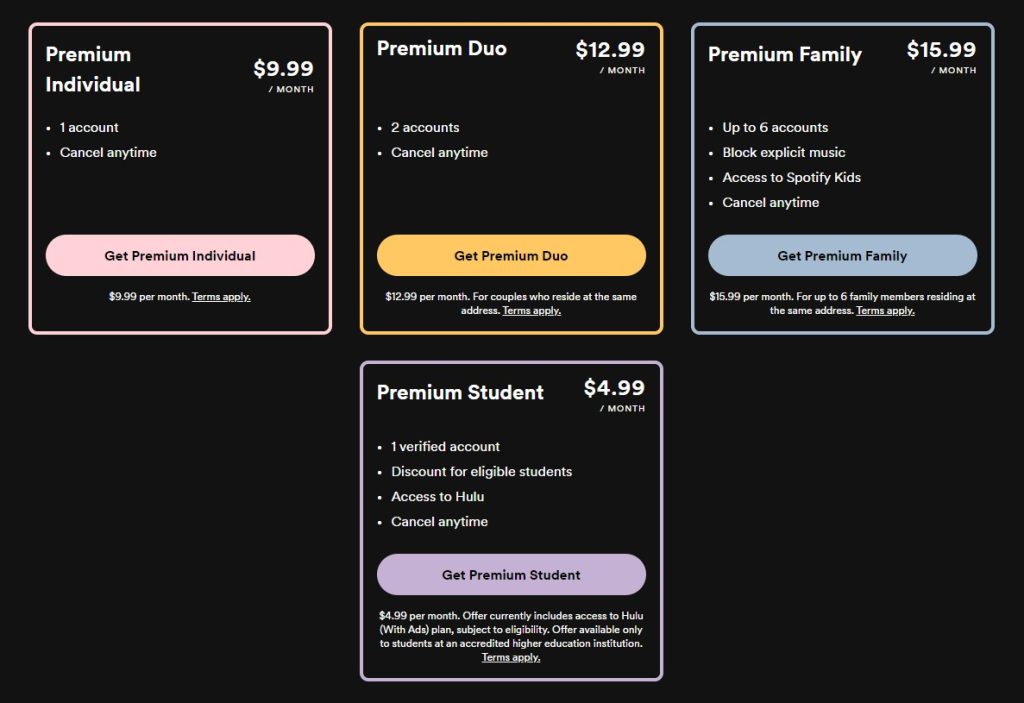 This is often the most crucial factor in deciding which service you choose. Spotify and Deezer have chosen, unlike Apple Music, for example, to offer a free version of their app, but with limited features and many ads that disrupt your listening.
The premium offers of both applications give Spotify the advantage in terms of flexibility. Spotify offers more different subscription plans, allowing you to be as close as possible to your needs. It is, on average $1 cheaper than its competitor. Beware, however, as we mentioned in the previous section, Deezer's premium version allows you to listen to high-quality music. Even if it is slightly more expensive than Spotify's, it can make a difference for audiophiles.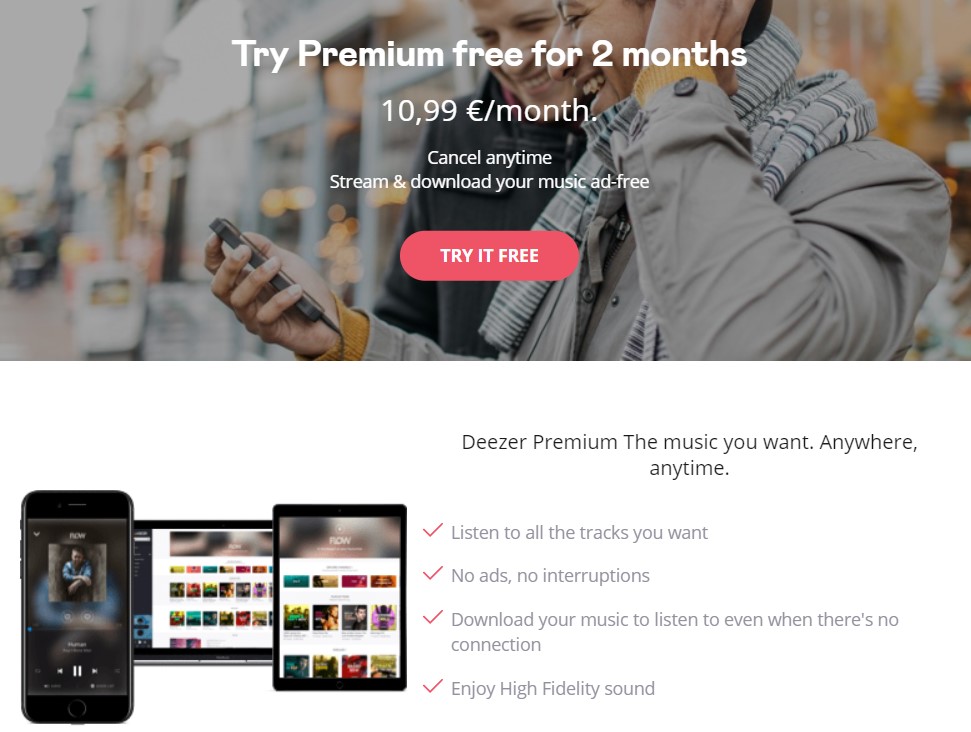 A good idea would be to test both services and, at the end of each trial period, back up your playlists on Soundiiz. Here is how to do it from Deezer or from Spotify.
This way, once you have made your final choice, you can transfer your data to one or the other application. Very practical!
Who's the winner?
Winner: Spotify✅
User experience & algorithms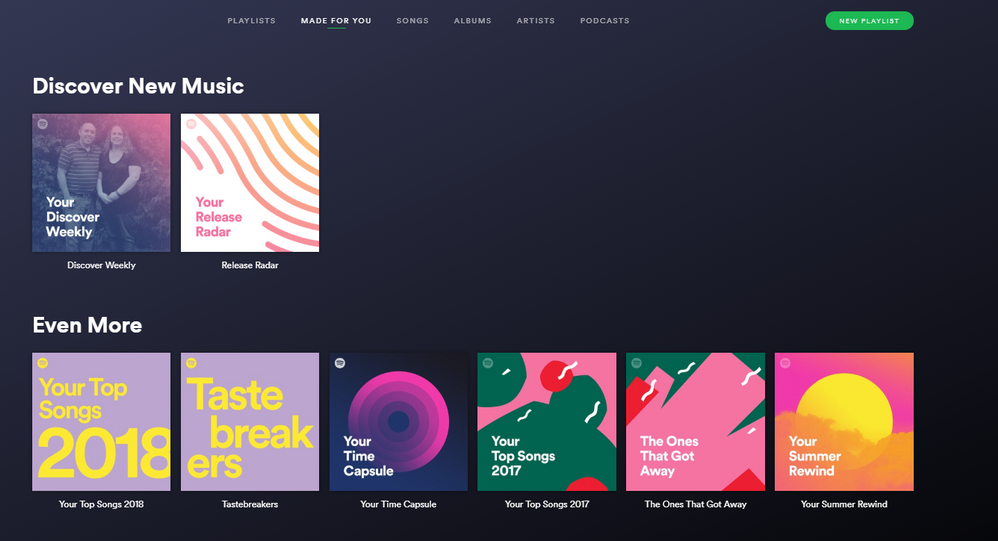 We've tested many streaming services, and to be honest, few, if any, can match Spotify's recommendation system… except for Deezer!
When we analyze the "User experience & algorithms" category, we try to rely almost exclusively on various user reviews. Indeed, it is almost impossible to be objective, as the user experience depends so much on our consumption habits and personal tastes.
Judging by a panel of opinions posted by sector professionals and users, we notice that Deezer is described as one of the "most user-friendly" streaming services. Its design and ease of navigation are highly praised. Deezer's advantage could grow if we consider that Spotify's new features, based on an updated navigation system reminiscent of TikTok and with a more explicit emphasis on the video format, are struggling to convince for the moment.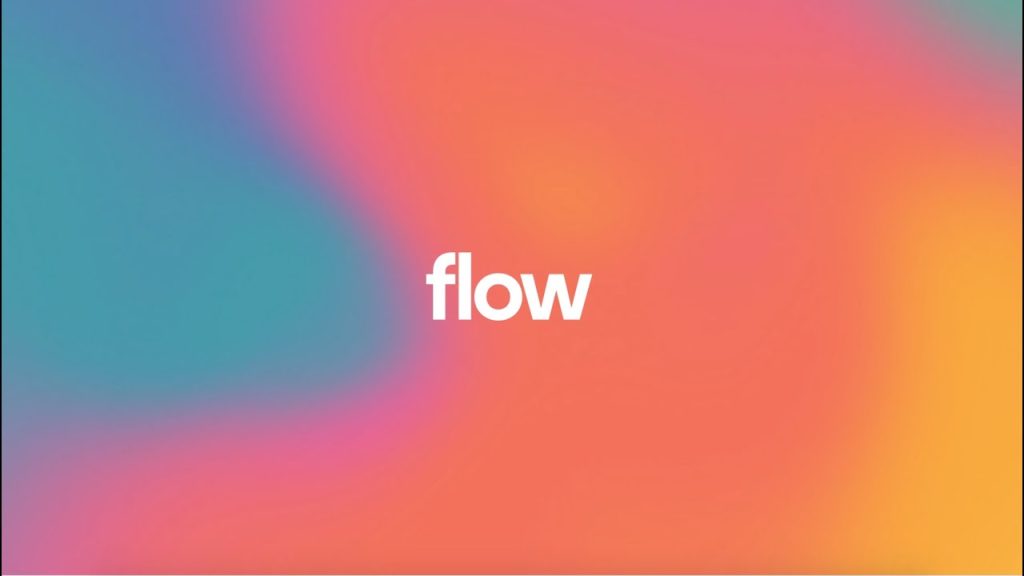 As we have pointed out several times in this article, Spotify can boast a very efficient algorithm allowing to generate Daily Mixes as close as possible to its users' tastes. Deezer, with its Flow system, offers a different experience but is just as efficient. Flow generates a continuous "flow" of songs based on your library, allowing you to browse endlessly among pieces that should match your tastes.
Who's the winner?
Winner: Deezer✅
Catalogs
– As of January 2023 –
We know what you'll tell us: between 82 million and 90 million songs, there's a pretty big difference, but it shouldn't stop anyone from listening to all the music they want.
But you know what they say: Numbers don't lie. And on this particular point, Deezer comes out on top, according to the Headphonesty website. The same study shows that Deezer is available in more countries than its competitor. This a surprising fact considering that Spotify is the world leader in streaming and has reached the international market faster than Deezer.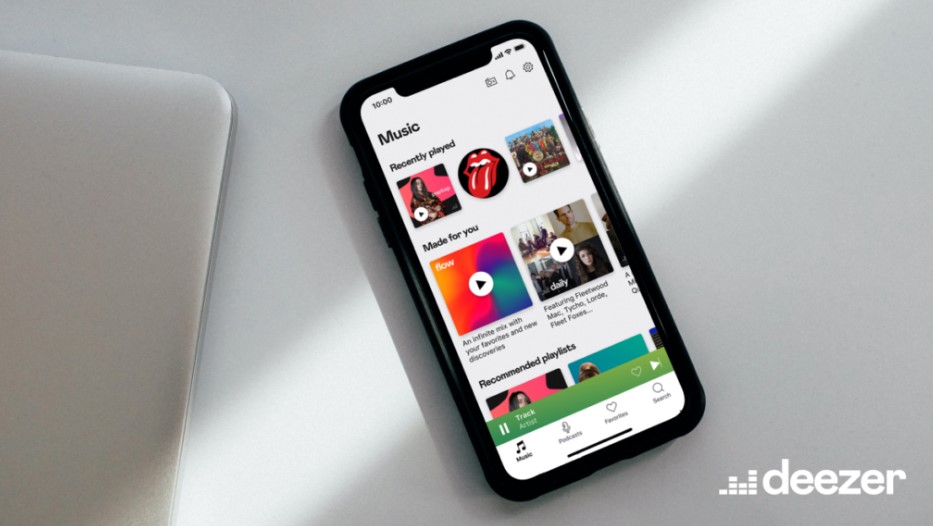 On the other hand, Spotify remains the undisputed leader in podcasts. This is due to a massive investment in the sector: if most streaming consumers now favor Spotify, it's partly because the company quickly understood how promising the podcast format could be. With over 3.5 million podcasts, you should be able to listen to your favorite shows without a problem! Deezer only offers 160,000 podcasts, a huge difference that could convince users to switch to the Swedish company.
It's also worth noting that Deezer doesn't currently offer video content, unlike Spotify, with its new user interface.
One of the negative aspects of Deezer is that its radios and audiobooks are only available in a few countries. Brazil, France, Germany, Israel, South Africa, Spain, the UK, and the US for radios, and Austria, Germany, and the Netherlands for audiobooks.
Who's the winner?
Winner: Spotify✅
Although Deezer has a larger catalog of songs, Spotify seems to be playing on more levels: more podcasts, radio stations, and an already established video offering. Spotify is a more versatile service.
Spotify or Deezer: let's sum it up
It's hard to decide between Spotify and Deezer: both applications don't have any shortcomings and should cover the whole spectrum of every user's needs.
If you live in France, however, it may be worthwhile to look at Deezer. The platform has formed partnerships with several companies that should allow you to get a few months of free subscription and thus save, over a year, on the cost of your subscription.
In France, Deezer is Spotify's biggest rival. With its two-month free trial, but also its numerous editorial contents, playlists and communication operations, Deezer is a way more than important player. The statistics prove it: Deezer has almost as many users as Spotify in France.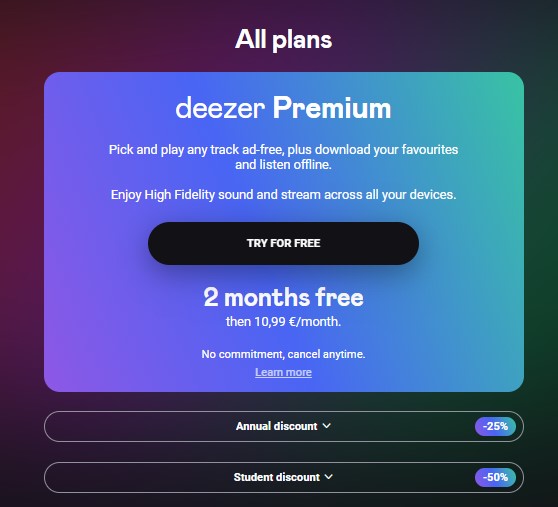 To conclude, here are the essential points that can help you make your decision:
If price is the most important thing to you, go with Spotify.
If you listen to many podcasts, audiobooks, and radio stations, Spotify is the way to go.
If audio quality is the most important thing for you, then choose Deezer. With a larger song catalog, Deezer is a must for anyone who cares about music.
Pretty clear, isn't it?
Soundiiz: Transfer your playlists from one music service to another
When you sign up for a new phone subscription, your new company sometimes offers you a few free months with Deezer. Same thing for an internet subscription. More than any other streaming service, Deezer has managed to position itself in this niche, and that's pretty smart of them.
Some users of other streaming services, like Spotify, might want to try Deezer. But how to avoid losing all your data by migrating from one service to another? Soundiiz comes to save you.
One of the main things that could prevent you from changing your music streaming platform is to have to lose all your music collection, including your playlists, favorites albums or tracks, and followed artists. And having to rebuild this library with a new service could be time-consuming and even impossible, depending on the size of your collection.

Soundiiz solves this by doing an advanced matching process, allowing you to move easily and with no effort from Deezer or Spotify to any other platform you choose. You can also migrate, for example, your data from Apple Music to Deezer or Spotify with Soundiiz! And then keep your playlists updated by using the playlist Synchronisation feature.
When you unsubscribe from a streaming service, your data and playlists can be deleted. Using Soundiiz, you create backups of your Deezer playlist as CSV or backups of your Spotify playlist as CSV. Convenient!
To sum everything up, Soundiiz allows you to subscribe to Deezer and Spotify without losing your data. Interesting, isn't it?
So go ahead, sign up for a thirty-day trial, once with Deezer, once with Spotify, and make your choice!