You should subscribe to TIDAL for dozens of reasons. But how do you subscribe and import your data from the streaming platform you just left?
One of the main reasons someone would want to subscribe to TIDAL is to enjoy one of the best audio quality on the market. Of course, TIDAL isn't the only service that offers music in HD – you can read our comparison between TIDAL and Qobuz – but there's no denying that it does it better than almost any other.
TIDAL is an excellent option for audiophiles who also want to benefit from an extensive catalog of podcasts, audiobooks, and a record of songs among the best on the market.
The good news is that you can test TIDAL for a month to ensure it fits your needs. But before that, you'll have to register, and depending on the device you're using, the procedure may differ slightly.

After registering, if TIDAL is not the first service you use, you will probably want to import all the data you had previously accumulated.
No worries; we explain everything in this article!
---
Subscribe to TIDAL on iOS
Open your App Store
Search for TIDAL in the search bar
Install the App, and then sign in using the free 30-day trial period
You're good to go!
Subscribe to TIDAL on Android to import your data
Open your Play Store app on your Android device and look for TIDAL
Hit the Install button
Open the App and click on the "Connect" button at the bottom of your screen
Follow the instructions, and you're all set!
Subscribe to TIDAL on your desktop to import your data
Want to subscribe to TIDAL on your desktop, and then import your data? Nothing can be easier:
Go on www.tidal.com
Click on the white rectangle "Strat Free Trial" at the top right corner of your screen
Enter your email, then fill in all the blanks and hit the "Sign Up" button at the button of your screen
Why should you use Soundiiz while subscribing to TIDAL?
You have followed the procedure to the letter and now have access to all the possibilities offered by TIDAL. Learning to use a new streaming service can be challenging, but thanks to the one-month trial period provided by TIDAL, you have plenty of time to get used to it.
During this adaptation period, you may want to optimize your use of TIDAL. For example, some people use the trial period to get playlists they can't listen to anywhere else and cancel their subscriptions. Others will enjoy the application, will want to retrieve some data they gathered, but will eventually decide to try something else.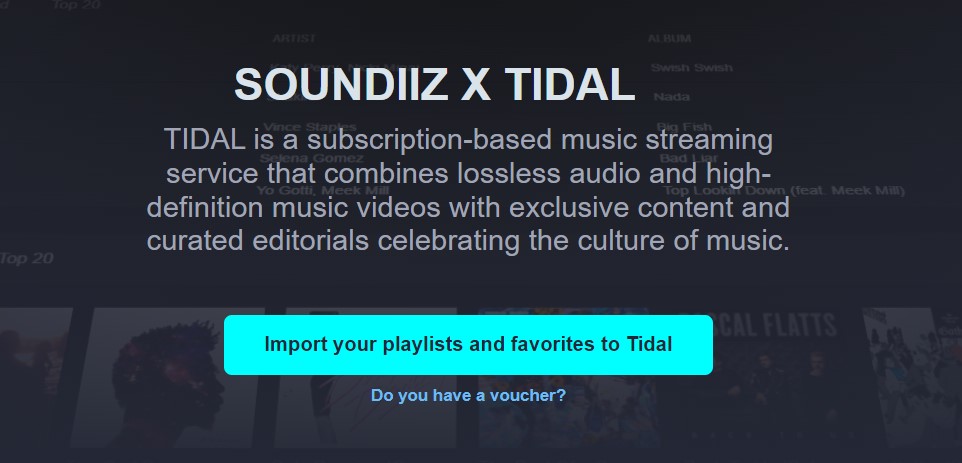 Whatever the case, Soundiiz allows you to extend your streaming experience. We work hand in hand with the streaming platforms to offer you an optimal user experience. And yes, our services are 100% legal, as we don't download or recover any audio files.
Soundiiz allows you to avoid the embarrassing situation of arriving on TIDAL and starting from scratch. Building a library of artists, songs, albums, or playlists… That would be frustrating, wouldn't it?

With Soundiiz, you can find all your Spotify, Apple Music, Deezer, YouTube Music, etc. data directly on your TIDAL account in seconds.
How do you do it? Nothing could be easier! You can use our Transfer function – you can find all the explanations here.
You can also delete and update multiple playlists at once and manage everything in one place: you can keep your playlists up to date and never out of date. You can even subscribe to Soundiiz monthly offer and cancel your subscription immediately if you only need it to do a one-time transfer!
Let's do it: subscribe to TIDAL and import your data, using Soundiiz!