We are proud to announce a new main feature on Soundiiz ! Starting this week, we have added a new way for Brands / Curators and Artists to share playlists and releases.
Introducing "Smartlink", a unique link to share your content to your fans whatever music service they are using !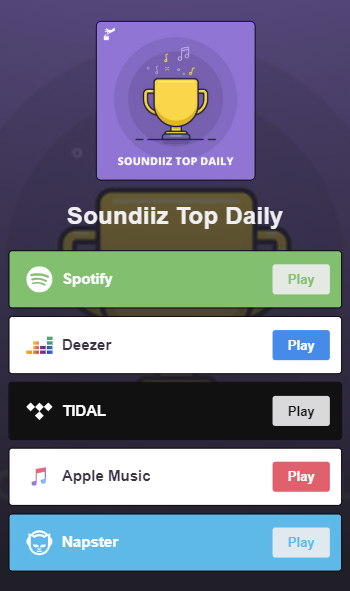 Made for Playlist curators
Soundiiz as always been a great tool to manage your music collection and your playlists in one interface. Connecting your music accounts, you will be able to create / update / delete and Sync your playlists without having to go on each streaming services.
Designed for playlists but also available for new releases and more, Soundiiz is providing with the Smartlink feature a widget which can be quickly embed to your website / blog.
Two widgets versions are available, depending of your needs and to fit the best with your content.
Powered by Soundiiz, enjoy the Synchronization feature for Playlists. Update your playlist on one music providers and let Soundiiz updating this tracklist to all others DSPs you have set in your Smartlink.
Save time with the Sync, save money with our Free offer and finally reach a bigger audience by using our large platforms catalog !
Free alternative to Linkfire
Soundiiz.com is the perfect tool to manage and share your playlists to your fans. Using our Free Smartlink feature you can:
Create unlimited Smartlinks on a dedicated domain sdz.sh
Choose the type for your link and customize smartlink fields
Activate more than 40 music platforms and stores for your links
Keep Sync your playlists to all music providers using our Synchronization feature
Embed your Smartlinks on websites and blogs with the Soundiiz Smartlink Widget
Advanced Smartlinks feature
Recently launched with a Free complete offer, we are working hard to provide for playlist curators / artists / majors & labels more powerful tools.
Advanced statistics, fans redirection depending of the country, custom shortcode, private sub domain and many other features.
Stay tuned on Soundiiz.com !